Ridgeline Log Cabins, owned by Brian and Kelly Stamps, is an Independent Dealership of Honest Abe Log Homes
Ridgeline serves log or timber home customers in the northeast Georgia counties of Towns, Rabun and Union and beyond.
Log and Timber Home Construction
Ridgeline Log Cabins is the ideal choice for those who want an energy-efficient, custom log home, timber frame home or hybrid home. As a licensed and insured contractor, the Stamps can handle any project from inception to move in. They'll oversee delivery of the log or timber frame package, and they'll construct the home from setting the logs and timbers to finishing the interior and exterior. In other words, Ridgeline Log Cabins' customers don't have to worry about coordinating what for many is the project of a lifetime. Call 706-310-4201 to get started.
Working with Honest Abe Log Homes
As an Independent Dealer, Kelly and Brian will navigate each homeowner though the process of designing a log or timber home and serving as liaison with Honest Abe throughout the manufacturing process.
Honest Abe Log Homes began in 1979 and is still owned and operated by the family of its founder. Honest Abe's kiln-dried, Eastern white pine and Douglas fir log and timber packages are manufactured in Moss, Tennessee, upon order.
Finding Land
For those who have the dream of a wood home but don't have the land, Kelly Stamps is a licensed real estate agent in Georgia and can assist with finding the right location for any type of building project. Call Kelly at 770-815-2523 to get started.
Get In Touch
Contact Brian by phone at 770-883-1033 or at 

[email protected]

 to learn more about how Ridgeline Log Cabins helps homeowners have the log or timber home or commercial building they've imagined. Brian and Kelly will meet you at the location of your choosing for your initial consultation. 
With Ridgeline Log Cabins, homeowners can rest easy that a new log, timber or hybrid will be handled professionally and expertly from start to finish.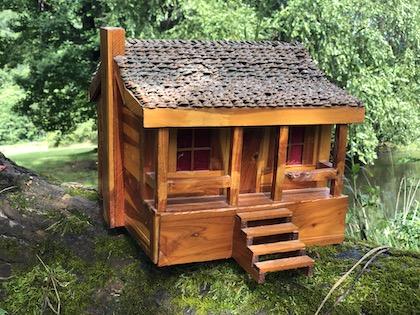 The Family Cabin
by Brian Stamps
Since the 1800s my family family has been born and raised in Hiawassee, Georgia. My great grandfather, Tom Shook, owned the 200-acre Shook Farm along the Lower Hightower Creek.  My fondest memories growing up were learning to hunt and trout fish on their farm. 
The cabin pictured above is a replica of my great-grandfather's original home that was on the Shook Farm.  My great uncle, Cecil, made it by hand when I was a child. He loved spending his free time at the farm in Hiawassee, which gave him the  inspiration to create such a treasure and lasting memory of our heritage. When I look at the cabin he made, I think of him and the mountains that I call home. 
When I became a teenager, I began doing apprenticeship carpentry work in my great uncle and aunt's millwork shop supplying residential homebuilders with hand-made millwork products. When I was a freshman in college, my great uncle passed away and left me the millwork shop to operate full time with the help of my great aunt Jewell. Over the next several years, I greatly expanded the business forming many new contracts with some of the biggest builders in Atlanta.
As a result, my wife, Kelly, and I began building custom homes through Ridgeline Exteriors, LLC.  We are a licensed Georgia Residential General Contractor.  We make a great team as I focus on the bigger picture, while she is able to focus on the smallest of details. 
Our log and timber frame homes are manufactured in the U.S.A. & have been since 1979.