By Claudia Johnson
The porch is an important element of a home's design and functionality, but it's also part of American culture. On social media porches have been honored with their own hashtag – #porchsitting.
Dan Stevens, who played Matthew Crawley on "Downton Abbey," made a very astute observation about the differences in American porches and those of his native England.
"A British porch is a musty, forbidding non-room in which to fling a sodden umbrella or a muddy pair of boots; a guard against the elements and strangers," Stevens said. "By contrast the good ol' American front porch seems to stand for positivity and openness; a platform from which to welcome or wave farewell; a place where things of significance could happen."
He's right, and that's why Honest Abe's customers take time to think about the design of their porches. There are decisions to make about roof type, temperature control, size, electrical, finish, railings, posts and whether the porch is screen enclosed or open. Once these decisions are made, it's just a matter of working with an Honest Abe designer,  Sales Consultant or Independent Dealer to create the design and estimate the cost.
Size Matters
If the porch is no more than a covered spot to access the house, it need not be very large. However, most Honest Abe customers want the porch to expand their living space. They want chairs, tables and swings. They want to decorate for the seasons. They want room to entertain friends and family or just relax on their own. Though a traditional porch width is 8', it can be any size. Just tell Honest Abe's design and sales team what's desired.
Protection from the Elements
A real porch has a roof. Otherwise it is a deck. There are two types of roofs, and both will shield from the broiling sun or pouring rain. The shed roof is a flat section that pitches away from the house. A gable roof creates an "A." Each have their functional and visual purpose, so it is not uncommon for a home to have a shed roof on the front and a gable on the back or vice versa depending on the home's window configuration.
Hate Insects?
Most people cannot really relax when bugs are bugging them. In addition to the annoyance of insects crawling on one's body or trespassing into food or drinks, there's a health concern. Mosquitoes are a nuisance that also carry diseases. The sting of a bee or wasp can be fatal to some people. The decision is whether to leave the porch open or enclose it with screen. Honest Abe's designers will create a porch plan to accommodate!
Turned On, Tuned In
Remembering to add electrical outlets and wiring for lighting and sound during the design phase will save time and money later. A porch can look old-fashioned and at the same time have lights, fans, wall sconces, charging stations and even speakers. Discussions with Sales Consultants or Independent Dealers help navigate these decisions.
A Porch IS Outside
In reality the temperature of a porch cannot be completely controlled. Fans designed specifically for the outdoors can keep hot air from becoming oppressive. Heaters, either portable or built-in, or perhaps a fireplace can shave off the chill. Think about this before the plan is finalized to account for wiring.
Safety First
A person or pet can plunge off a porch and be injured, and that's why most porches have protective sides. In fact, most building codes require a minimum 30" barrier, whether it is a balustrade of spindles and rails or an actual knee wall. Both have benefits beyond protection. Rails can coordinate with the steps and deck for a seamless visual. Knee walls afford more privacy and are ideal for screen-in porches.
Looking Great
It's not all about function, of course. The porch needs to be an inviting place. Molly Cooper of Cooper & Co. Design has advice, tips and ideas for making the porch look perfect. Read her blog post below about choosing, rails, posts, finishes, paints, stains and décor.
No matter the design of a porch, it's safe to say life is better with one. Ashton Kutcher, actor and entrepreneur, summed it up pretty tidily, concluding that "true luxury is being able to own your time – to be able to take a walk, sit on your porch, read the paper, not take the call, not be compelled by obligation."
One doesn't have to be a celebrity to create that lifestyle, and the right porch is a good start. #porchsitting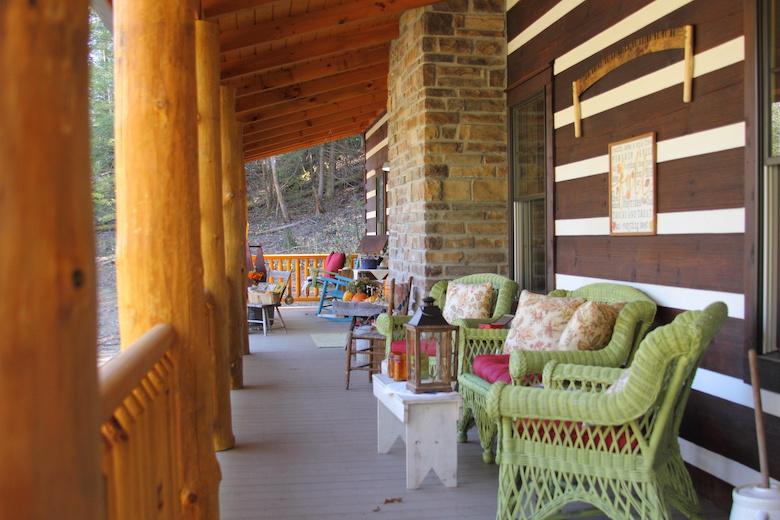 Rick and Dana Godsey used peeled, whole logs for posts and preserved them with a natural finish. Balustrades were designed to complement the posts. The couple had seen a similar porch years before and wanted to replicate the concept for their home on the Tennessee Cumberland Plateau. Their Honest Abe Sales Consultant and designer easily made the modification.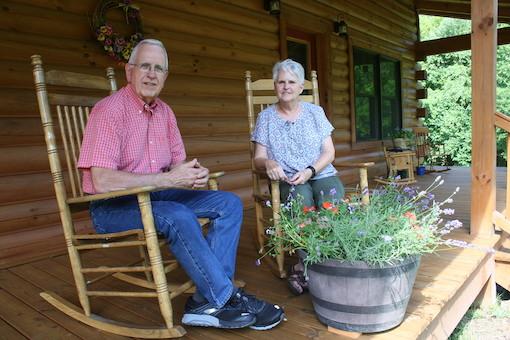 Larry and Pam Swift knew before they began their cabin that porches were a must. The front and back of their family retreat have full-length, covered porches. "Sitting on the back porch early in the morning is a wonderful relaxing experience, as morning light breaks," Larry said.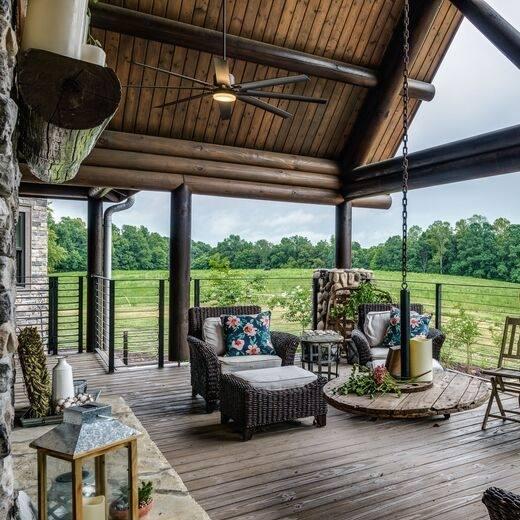 Nick and April Patterson's porch has a 35′ floor-to-ceiling stacked rock fireplace with an American chestnut mantle from a vintage log. A swing table is suspended from the porch's heavy timber roof. The 10" round logs that form the gable are supported on manufactured stone pylons. Instead of a typical wooden balustrade, metal stock and conduit railing was installed around the deck and down the exterior staircases. "We both wanted a back porch with a fireplace to enjoy the view of the pasture, ponds and woods that perfectly tie our home to nature," Nick said.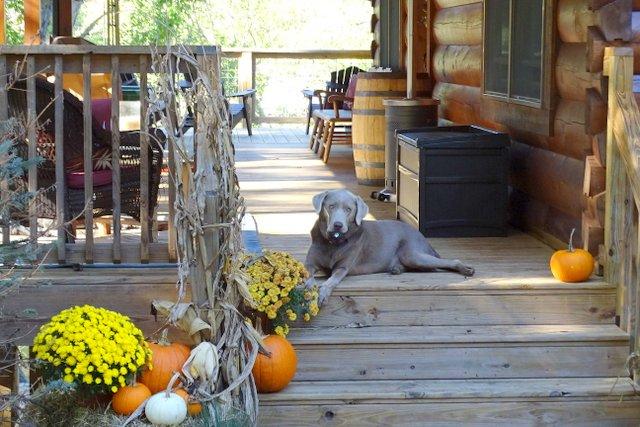 For his home overlooking a North Carolina lake Terry Corpening's L-shaped porch/deck combination is 12' wide, so he had the roof extended out 12 ft. over one end so he could add a wood burning fireplace (below). "When I walk outside each morning with my coffee in hand and look out over the cove from my deck, I feel like I'm living a dream," Terry said. It seems his dog (above) is happy with the porch as well,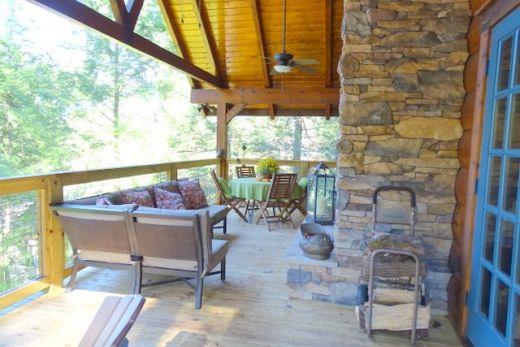 Lucinda and Richard Riley envisioned a porch where memories were made. Their daughter said her wedding vows on the front porch of their Mayfield, Kentucky, home soon after it was completed from an original concept they presented to the Honest Abe design team and their Independent Dealer.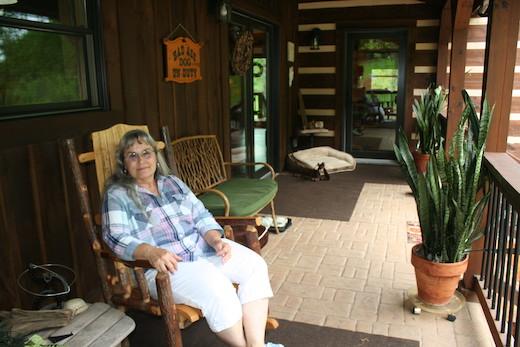 Cindy and Roger Shaneyfelt included two porches totaling 568 square feet into their custom home. The side has a stamped concrete floor and rails the Shaneyfelts constructed in their shop using pine boards and metal rods. Cindy and Roger were married on the 8' wide, full-length, covered front (pictured in header), which they crafted themselves from locally-harvested, wide cedar slabs.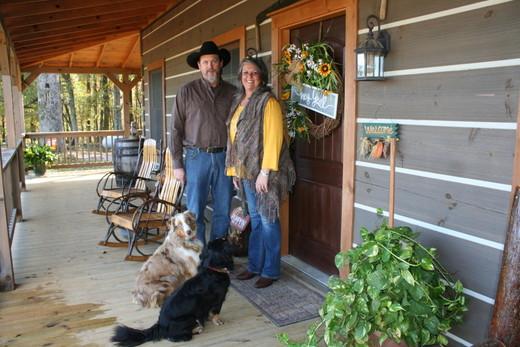 Tabatha and Jimmy Clay have more square footage in porches than in the custom home they designed to downsize after their children left home. The 1,136-square-foot wrap-around porch has become their favorite part of the home. They say that many evenings they retreat to the porch, just the two of them, like they'd imagined across their 30 years together.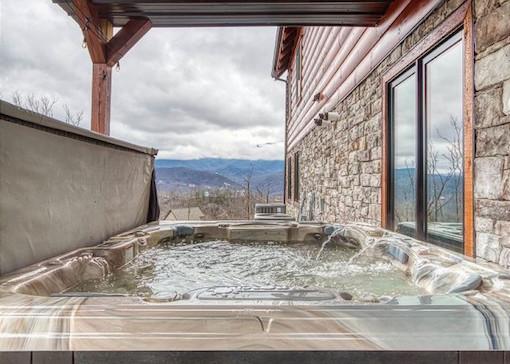 Danny and Tia Suiter's 5,000-square-foot Smoky Mountain log cabin has several porches designed to enjoy the views. However, Gatlinburg, Tennessee, viewed from this porch with its luxurious hot tub, could very well be a favorite.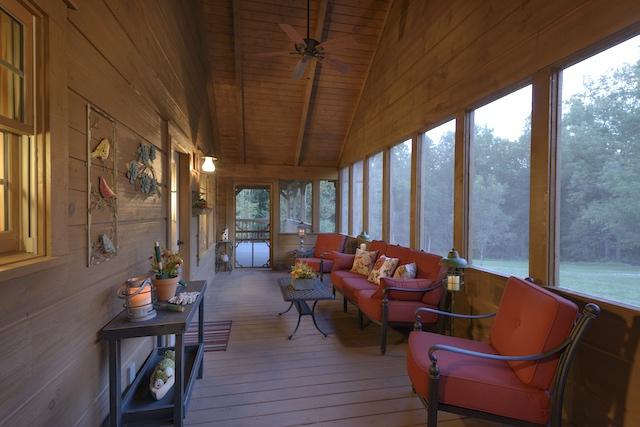 Michelle and Rick Etheridge's home is encircled by wide covered porches that terminate into a screened-in "room" at the rear complete with fans, lighting and electrical outlets. A solid knee wall was used to protect porchsitters from critters.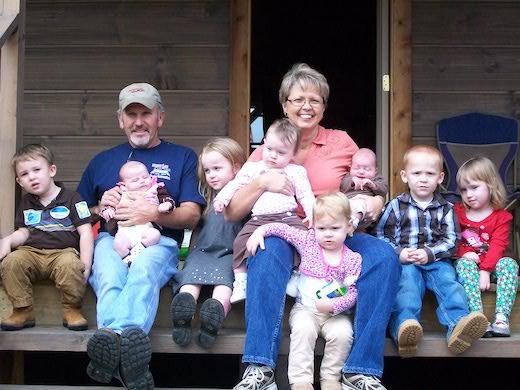 Inez Price, Sales Consultant at Honest Abe Log Homes' National Headquarters, lives in her own Honest Abe. One of her favorite memories is the Thanksgiving Day when it was so warm in Moss, Tennessee, that the doors could be opened and the grandchildren (and their parents) could enjoy the holiday on the porch.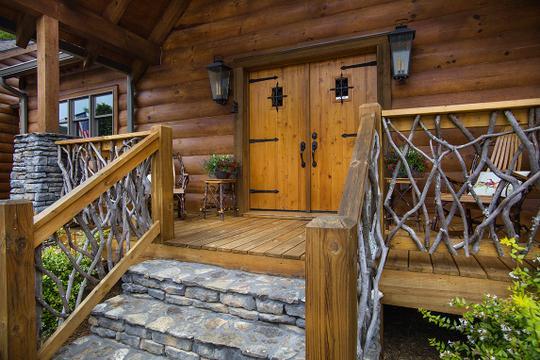 A porch balustrade woven with mountain laurel under a heavy timber gabled pediment supported by 6"x6" posts on stone pylons invites visitors through the handmade doors of the Evan and Gayle Peterson log home in the mountains of Western North Carolina.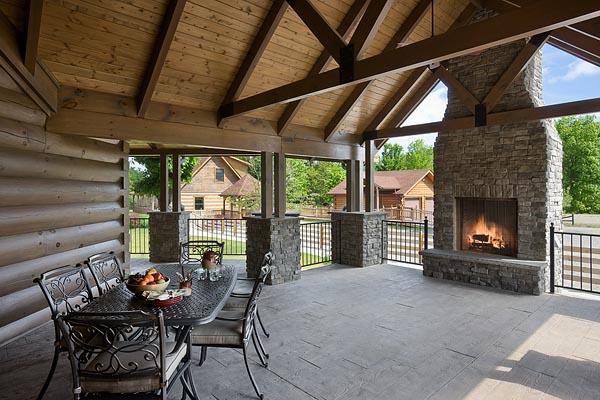 For the ultimate in outdoor living, a covered exterior room complete with a functioning wood fireplace, a concrete floor stamped to mimic wood and iron safety rails, connects to remainder of 1,700 square feet of porches and is accessible through patio doors leading from the dining/kitchen area at the Honest Abe Log Homes Crossville Model and Sales Center.